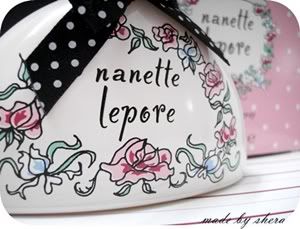 Nanette Lepore
In order to capture Nanette Lepore's whimsically romantic creations, the perfumers abandoned the traditional - weaving together a tapestry of natural essences including threads that flow throughout the entire fragrance. The notes are delicate and white, colorful and sparkling, and warm and sensual.



Notes:


Moonstone Rose, White Peach, White Cranberry Juices, Magenta Nectar, Black Currant, Orange Jasmine, Persian Lime Juice, Velvet Violet, Amber, Indian Sandalwood.


Style:


Delicate. Colorful. Warm.




Guess what...this perfume..giler susah nk carik...even kt MID..OU..CURVE~ semuaa x de babe..balik Malacca...went to PERFUME AVENUE SHOP....aaahhh finally!!!! ade!!! aku slalu pkai perfume ni...g class kadang2...ramai yg ckp "gucci ek" huh??bile aku sebut nanette lepore ramai x tahu..(hahah..mmg pon) perfume nih x famous babe...tp mahal lah jugak...2K kot....gue x main lah perfume kt downtown tuh...quality x same...btw...this perfume..mmg best!! i give 8 Star from (10) mmg worth it.Selamat Mencube :)